In 1980 the Vestry and representatives of Christ Church, Valdosta, petitioned the Diocese of Georgia and the Rt. Rev. Paul Reeves to purchase ten acres of land on Bemiss Road for the development of a second Episcopal church. Inspired by the foresightedness of Bishop Henry I. Louttit, then Rector of Christ Church, the first service of St. Barnabas was held on September 19, 1982, at the YMCA on Gornto Road with The Rev. J. Robert Carter as Vicar.  With the support of a nucleus of members from Christ Church, the St. Barnabas family continued meeting there until January 1983 when a move was made to the Seventh Day Adventist Church on Slater Street. Groundbreaking for the building on Bemiss Road, designed by architect Blake Ellis, was held on March 18, 1984. The first service was on November 18, 1984, and the dedication was celebrated by the Rt. Rev. Harry Shipps on December 16, 1984.
Dr. Buddy Pitts and Bishop Paul Reeves were walking over the church site, talking about a church name. The church property was originally a farm and as they approached the still standing barn, Bishop Reeves said, "Why not call it St. BARNabas!"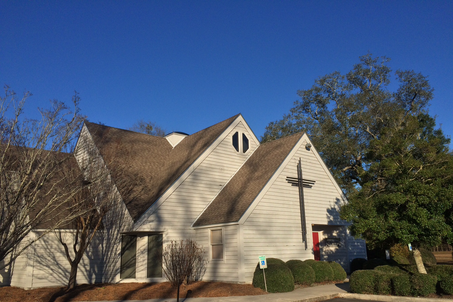 Over the years, St. Barnabas has done more to live into its saintly namesake, the apostle Barnabas who was known as the "son of encouragement." The church has hosted Habitat for Humanity build teams, Blessing of the Animals, and Christmas Give Away programs. Dr. Lavan Robinson and his wife, Deacon Janet Robinson, brought their considerable musical talents to bear, increasing the repertoire of music. The church still has an organ Dr. Robinson recovered and restored in the side chapel.
The overall impression most people have when they visit St. Barnabas is that it is a place of welcome where nobody is a stranger for very long. We are a low-key parish that was once described by a bishop as "the island of misfit toys" for our quirky ways. But we are also a family-sized parish of big hearts and dreams and persistence as we walk in love with Jesus.